After our brief stay in London, we lugged all our suitcases back to the train station and traveled to Portsmouth. Our trip to England proved an excellent opportunity to meet with a fellow writer we met years ago on an RPG forum. He and his lady graciously offered to host us while we looked for a place of our own. It probably sounds strange to anyone who lives in England, but riding the train was something of an adventure for us those first few times. For one thing, we had to figure out how all the buttons work (you have to press a button to open the train doors, for example. And certain trains break apart at some stations to head to different destinations so you have to make sure you're in the right part of the train). One poor lady couldn't figure out how to work the door lock in the bathroom and another poor gentleman almost walked in on her. He high-tailed it out of there before she emerged, but she took it in good stride. For the next several stops it became a joke among those of us sitting near the toilet. Every time someone entered, one of the gentlemen near us warned them to lock the door.
Our time in Portsmouth was both exciting and terrifying. Exciting because, for the first time, we were rested and relaxed enough to enjoy the sights. Terrifying because we had so much left to do. It seemed every time we tried to look at an apartment, it got rented out from underneath us before we could see it. In August, it seems, renting becomes very competitive. The first time we almost put a deposit on an apartment, the landlord turned out to be showing it behind the letting agent's back (which is why we ended up in a different place).
Reading the situation expertly, our gracious hosts offered us time to relax in between the stress of setting up our lives this side of the ocean. Our first day in Portsmouth they took us for a walk. We encountered a kite festival, and I still curse myself for forgetting to bring my camera on that walk. I've never seen so many different kites before. I can't believe some of them could fly! There were centipedes and divers, cars, boats, planes, and a giant bear. Most of the largest kites were staked to the ground once they caught wind so they could be left unattended. In other areas, people flew smaller, simpler kites. We saw a group of triangle shaped kites chasing each other in formation. When we got closer, we saw a group of men coordinating their flight to perform the tricks. It was the most impressive feat of kite flying I'd ever seen.
The next day we took a trip down to the Gunwharf Quays, which was built in 1662. It became a necessary part of the naval dockyard, as ships at that time could not be placed in dry dock for maintenance and inspection with their guns. The severe weight would have damaged the wooden structure. The armaments were offloaded to the Gunwarf Quays instead, though the quays fell out of use when it stopped being necessary to unload a ship's armament.
The site was in continuous use for over three-hundred years. Today it hosts a modern marina with sea-side bars and a shopping outlet, where I took these special pictures for some friends back home.

(Like this one for my gracious web host)

(And this one for my mother-in-law. Don't worry, they know why I took them ;)
One of the main attractions is Spinnaker Tower. The 170-metre (560 feet) tower is modeled after a sail to reflect Portsmouth's maritime history. From the bottom, we watched several people scale down the side of the building. Apparently you can undertake this activity for a small fee. It's been suggested this was part of a charity benefit.
(I'm not this crazy, not even for charity. Sorry!)
The center point of the harbor, for me, was the HMS Warrior, the Royal Navy's first ironclad ocean-going armored battleship. It was launched in 1860, became a depot ship in 1902, was handed over for preservation in 1979, and is currently a museum ship. I'm told you can take tours, though we had to save it for another trip.
My favorite outing while we were in Portsmouth was to Tenth Hole Teahouse, a little cake shop and teahouse located on a 9 hole golf course. They had some truly fantastic cakes and they give you a hefty slice. My husband had a three tiered chocolate and fruit cake while I opted for the Aero mint cheese cake (phenomenal!). To work off the heavy dessert, we took a walk through a rose garden. I didn't take any pictures, because most of the flowers were falling out of bloom (it was starting to get chilly in the mornings and evenings), but it was still an interesting sight. Then we took a walk down by the ocean front and sat for awhile listening to the waves and watching the swimmers. It was both awe-inspiring and relaxing to watch the ocean waves and the ships and ferrys sailing in the distance.
We lingered until it got too chilly to keep sitting, then made our way to the bus stop. Ironically enough, we boarded the bus right next to The Ocean at the End of the Lane.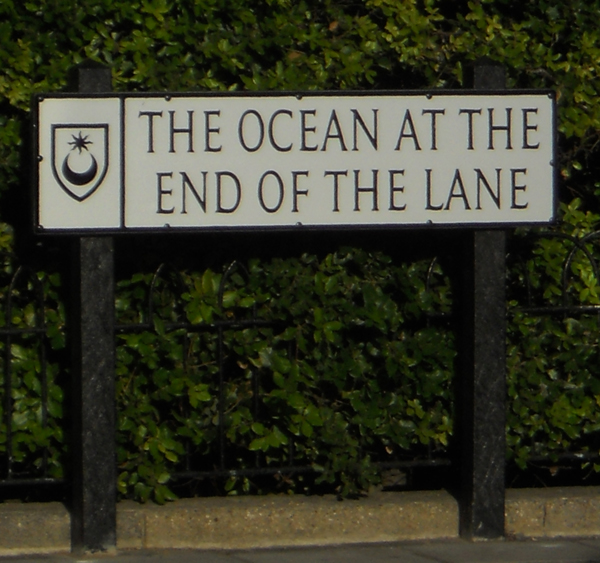 I would venture to say Portsmouth was our first real taste of England, of both the land and its people, our first chance to really enjoy the adventure of moving across the ocean. It helped that we had two amazing hosts to guide and encourage us. We do hope to visit again, as there are still many places in Portsmouth left for us to explore, and now we know we have two great friends waiting to greet us again.